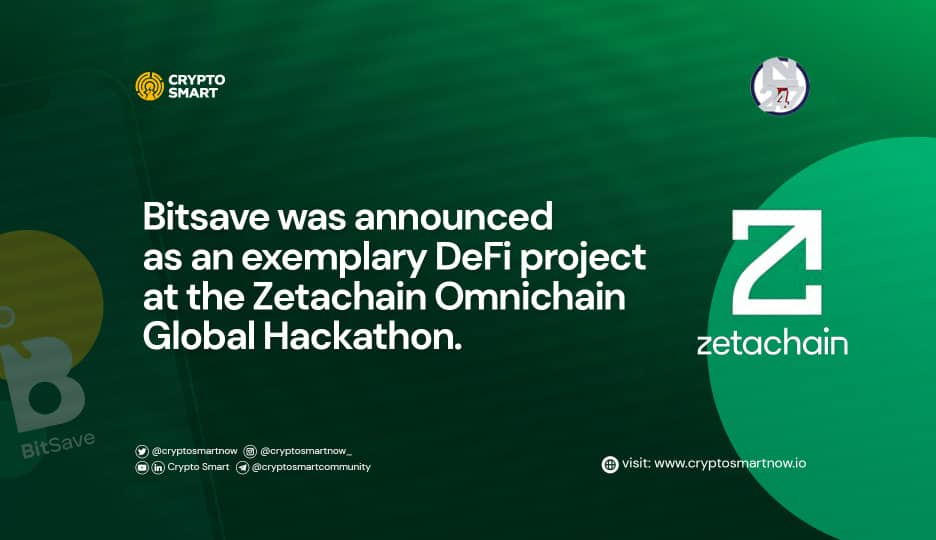 Bitsave was announced as an exemplary DeFi project at the Zetachain Omnichain Global Hackathon
Bitsave, the Savings protocol of Web3 finance, by Crypto Smart added another feather to its wings as it was announced as an exemplary DeFi project.
The announcement was made at the closing ceremony of the global Omnichain hackathon by Zetachain in collaboration with DoraHacks.
Prior to the announcement of the winners from the 6 categories, 4 projects were selected for a demo presentation.
While talking about the 4 projects that were selected for the demo presentation, Brian from DoraHacks emphasized that the 4 projects selected are really strong and outstanding projects.
Being part of the selected projects for the demo presentation signifies that Bitsave is not just a strong project but also an outstanding project.
Bitsave was the first project to be presented and the presentation was done by Karla Obakpolor, the founder and CEO of Crypto Smart.
During the announcement of the winners, Denis Fadeev, Head of Developer Experience at Zetachain reiterates that Bitsave is a project with so much potential, user friendly and has a social impact.
Prior to being declared as an exemplary defi project at the Omnichain hackathon, Bitsave protocol was announced as the most impactful solution at the Mega Ace Hackathon.
Karla Obakpolor, Founder and CEO of Crypto Smart clarifies that the description of Bitsave by experienced developers, outstanding founders and blockchain enthusiasts around the world is a testament of the exemplary and outstanding nature of Bitsave Protocol.

About Bitsave Protocol
Bitsave protocol is the SaveFi protocol built by Crypto Smart which helps individuals to save and earn interest in cryptocurrency without losing their capital to the market volatility.
Click here to see a live presentation of Bitsave in 7mins.
Also, you can join the waitlist and enjoy the new value chain in web3 finance.

About Omnichain Hackathon
Omnichain Hackathon is a collaborative effort by Zetachain and DoraHacks to support excellent projects and reach out to blockchain developers to launch novel blockchain solutions on Zetachain.
About Crypto Smart
Crypto Smart is a B2B Crypto Asset Management company founded in January 2021 by Karla Obakpolor, a blockchain business developer and Algorand ambassador in 2020.
The company offers fast and secure services which are based on a well-encrypted system with 24/7 customer support services. It has grown from offering its services to individuals, to companies and major enterprises as well as providing crypto education through various crypto courses.
Crypto Smart upscaled to the Algorand blockchain and offers blockchain products which include Bitsave Protocol; a SaveFi protocol that combines savings with DeFi, and SmartChange; a cross-chain P2P marketplace.
Website | LinkedIn | Twitter | Instagram | Telegram | YouTube | Email | Crypto Education | Discord | Reddit | Medium